Screen mirroring is an excellent way to project your pictures and movies and even play video games on a large screen, all from your iPhone! Although mirroring your iPhone screen may seem complex, using the right tools makes the task pretty straightforward. 
In this article, I'll list some great mirror apps that will make sharing your iPhone screen a cakewalk. So whether you want to conduct a presentation or stream movies on your TV using your iPhone, you're at the right place!
What Is Screen Mirroring?
Screen mirroring duplicates your phone's screen on a larger display, such as a Smart TV or a PC's LCD screen. With the help of this valuable feature, you can play games, stream media, and conduct presentations without squinting your eyes to see what's happening. 
Screen mirroring technology operates via a Wi-Fi connection, and users must connect the iPhone and screen to the same network to replicate the screen. A great thing about screen mirroring is that you don't need a wired connection in most cases!
How to Screen Mirror iPhone
To screen mirror your iPhone, follow the steps mentioned below: 
Step 1: Connect your Mac or Apple TV to the same Wi-Fi network your iPhone is connected with. 
To connect a regular smart TV with your iPhone, you first need to determine if the TV is AirPlay-2 compatible, which you can confirm with your TV manufacturer. 
Step 2: Once both the devices are connected to the same Wi-Fi, open your iPhone's Control Center. 
For iPhone 8 or earlier models, swipe up from the screen's bottom. Swipe down from the screen's top-right corner for iPhone X and later models. 
If you can't find the screen mirroring widget on your control panel, you'll probably need to add it through your iPhone's settings. Here's a short guide to lead you through it. 
Step 3: Click on the Screen Mirroring Icon.

Step 4: Choose the screen (Apple/Smart TV/Mac) you want to connect with from the available list of options.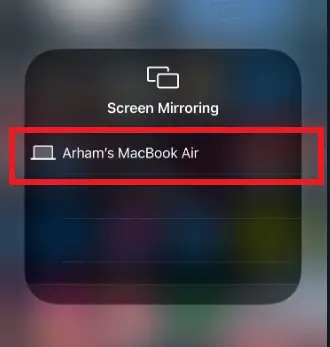 Step 5: Enter your password on your iPhone. You will now see your iPhone's screen is mirrored on the larger display.
Step 6: To stop the screen mirroring process, select Screen Mirroring→Stop Mirroring. For an Apple TV, all you have to do is press the menu button on the TV's remote to end the mirroring. 

You can also visit Apple's Guide on how to use AirPlay to mirror your iPhone's screen.
Best iPhone Screen Mirroring Apps 
Mirroring your iPhone's screen on an Apple TV is a pretty simple task, but let's face it; not all of us have Apple TVs in our homes. 
Some old TVs that don't have Wi-Fi will have to be connected with your iPhone through an HDMI to a Lightning connector. Moreover, TVs that don't support AirPlay will often require third-party applications such as LetsView and AnyDesk to connect your iPhone for screen share. 
Whether you're looking for a customizable screen mirroring application to mirror your iPhone to your smart TV or one that is incredibly secure, you're in luck! There are several applications available to meet all your needs, and you'll find some of the best ones listed below:
1. LetsView — Easiest To Use
The first screen mirroring application for iPhone on our list is LetsView, a simple application that allows you to protect your iPhone's screen onto your PC. The software has a pretty straightforward interface, enabling remote Wi-Fi access and allowing the display to be expanded without compromising visual quality.
LetsView is especially handy if you want to view a video you stored on your iPhone on a more prominent display, play applications at a higher quality, or have difficulty seeing tiny text. The software is also an excellent screen mirroring tool for teachers to show the entire class a presentation and explain specific ideas in greater detail.
Features
🔹 Simple and easy-to-understand user interface
🔹 Free to use
🔹 Maintains quality of the screen
🔹 It can take screenshots
2. Anydesk — Best for Customization
Next up on our list is AnyDesk, another useful mirror application that not only allows you to mirror your iPhone's screen to any desktop but also hosts a bundle of customization settings for an immersive experience. Using the app, you can share documents and files on any device from multiple locations without any hassle. 
AnyDesk's high-standard encryption makes it an incredibly secure screen mirroring application, keeping your sensitive data safe from hackers on the web. During your mirroring sessions, you can adjust the screen-sharing permissions according to your preferences as added security.  
Apart from all this, you're met a ton of customizable controls, such as displaying a remote cursor, transmitting sound, and taking screenshots, making AnyDesk a lot more than just a simple mirror application. 
Features
🔹 Free for personal usage
🔹 Includes online collaboration
🔹 Customizable user experience
🔹 Allows file sharing
🔹 Fast and lightweight tool
VNC Connect — formerly known as RealVNC — stands out from other mirror applications by providing a free version that connects up to five PCs and can be accessed remotely by up to three people. VNC Connect is also incredibly secure with its end-to-end encryption for all connections, making it perfect for people frequently streaming sensitive data. 
Plus, you have great control over all the devices connected to your remote sessions, so you can rest assured that no outsider will mess up your business meetings. VNC Viewer's features are thoroughly explained and documented, making it incredibly easy to use, even for beginners. If you're looking for a secure and solid cross-platform connection, VNC Viewer ticks all the boxes.
Features
🔹 The basic plan starts at $3.39 per month
🔹 Provides end-to-end encryption
🔹 Connects up to five PCs
🔹 Easy to use
Next up on our list is APowerMirror, which supports several platforms, including iOS, Android, Smart TV, Mac, and Windows. It can auto-detect reachable devices, making connecting your TV and iPhone quick and easy. 
The mirror application even allows users to manage their smartphones from their PCs through a wired and wireless connection. Further, many mirroring options are available to improve the user's experience. 
What's best is that the app provides minimal mirroring latency than other screen mirroring software, making it ideal for streaming and playing games through your iPhone. The software requires no subscription, meaning you can use it for a lifetime once you've purchased it.
Features
🔹 Supports several platforms
🔹 Auto-detects devices
🔹 Provides live support to linked devices
🔹 It has a low mirroring latency
🔹 Excellent for streaming games
5. Replica — Best for Webcasting
Replica is another powerful screen-mirroring tool that can mirror your iPhone on nearly any platform you can think of. Whether you want to conduct a presentation or view a video clip on another screen, the Replica screen mirroring tool is everything you'll ever need. From sharing your web browser to displaying messages, slideshows, and social media on a bigger screen, Replica can do it all, making it the perfect tool for webcasting. 
The Replica application allows you to control everything from the volume on your phone to the video quality. You can even alter the screen's orientation with a single button. The software has a powerful and unique user interface, which is fun to navigate and pretty easy to understand. 
Features
🔹 Ideal for presentations and video streaming
🔹 Easy to set up
🔹 Customizable controls
🔹 Adjustable orientation
6. Teamviewer — Best for Businesses
TeamViewer is one of the most famous screen-mirroring applications on the internet. It employs highly secure data centers to limit the risk associated with hacking or data breaches, being the perfect mirroring software for business owners. The software is free for personal use and includes multiple features like chat and file sharing options that you can take advantage of. 
Teamviewer also allows you to conduct office meetings once you subscribe to a membership. With an easy-to-understand user interface, the tool is excellent for beginners and office workers who aren't familiar with tech. 
Features
🔹 Free for personal use
🔹 Password-protected connection
🔹 Easy setup process
🔹 Incredibly secure and reliable
🔹 Numerous customer care channels
7. Tv Assist — Best for Video Streaming
Next up on our list is TV Assist, allowing you to share files and smoothly stream videos from websites. TV Assist also lets you choose the video quality you want to stream, making the experience all the more customizable and convenient for when you want to stream videos. 
You can even access materials from other TV Assist-enabled devices by setting the app as a media renderer or receiver. The software has various other cool features which you can delve into, like a music player option with playlist support.  
Features
🔹 Compatible with all iOs devices
🔹 It supports Xbox and Playstation
🔹 Allows you to choose the video quality
8. AceThinker — Best for Screen recording
AceThinker Screen Mirror is a valuable tool that allows you to save media files across your system and your phone, making it the perfect app to record your iPhone's screen. The software lets you display PDF, PPT, and other papers on large displays and even send messages. 
What I love about the tool is that it can show material from three different devices on a computer simultaneously, making your workflow all the more efficient. It even allows you to record and capture the activity on your iPhone's screen to store it on your PC.
Features
🔹 Compatible with iOS and Android Devices
🔹 Allows you to take screenshots
🔹 Allows screen recording
🔹 Great for displaying texts
🔹 Allows three devices to share the screen simultaneously
9. AirDroid Cast — Best for Remote Streaming
AirDroid cast supports cross-platform compatibility and can work exceptionally well as a screen-mirroring tool regardless of whether you're using iOS, Android, Windows, or macOS. What's best is that with this application, you can share the screens of five devices at once! 
AirDroid Cast also lets you perform web browser casting with remote networks if you have a premium subscription. This means that anyone can open the AirDroid Cast Web Client in their browser, share the access code with people thousands of miles away, and see that person's phone screen reflected on their computer. This makes the software perfect for individuals conducting training sessions, lectures, and official meetings with remote employees. 
Features
🔹 Supports cross-platform compatibility
🔹 Allows screen sharing of five devices simultaneously
🔹 Simple user interface
🔹 Supports web browser casting
What To Consider Before Choosing a Screen Mirroring App for iPhone
Screen mirroring applications allow users to transmit whatever is occurring on their phones to larger screens. However, before you download or buy a screen mirroring application, you must consider certain factors to make the right choice.
Device Compatibility
If you own an iPhone, it will be compatible with multiple devices, including an Apple TV, a Mac, or any AirPlay 2–compatible smart TV. Here's an extensive guideline on AirPlay's system requirements. 
But what if you own a TV hosting only an HDMI port? For that, you'll need to use an adapter such as Apple's Lightning Connector. 
Other than that, TVs that support WiFi and don't have AirPlay compatibility can easily be mirrored with your iPhone using third-party applications. Personally, I recommend using AnyCast or APowerMirror to connect your iPhone to non-smart TVs as they are easily compatible and super easy to navigate. 
Screen Mirroring to Multiple Screens Simultaneously
If you've tried to screen mirror to Apple TV using built-in mirroring technology like AirPlay, you've likely met some disappointing limitations. Apple TV only supports screen mirroring from one AirPlay-enabled device at a time. 
Other device types, such as Android, Windows, and Chromebooks, lack the built-in AirPlay screen sharing procedure required to connect to Apple TV. Moreover, it worsens when you're in a place with diverse collaboration requirements, such as schools and offices, requiring multiple devices to stream simultaneously. 
Fortunately, I've found that software such as Chromecast is a lifesaver. With Chromecast, you can simultaneously screen mirror your iPhone to multiple TVs around you without hassle. The best part is that you don't need complicated cables or expensive hardware to share your iPhone across various displays. 
If you're confused, follow this guide to navigate Chromecast and get your streaming devices up and running. 
Connection Type
When considering mirroring solutions, you must factor in wireless connections. A wired connection necessitates using an HDMI cable, while a wireless connection only requires Wi-Fi access. Some apps support both wired and wireless connections like Apowermirror. I'll discuss both the types below so you can better understand them:
Wi-Fi
Wireless screen sharing has a slightly higher delay and latency than wired screen sharing. However, wireless technology is sufficient for viewing entertainment, conferencing, and teaching. 
As a result, conference rooms, multi-media classrooms, virtual exhibition halls, healthcare facilities, and other departments are increasingly relying on a wireless connection to mirror their device's screen. This is also assisted by the fact that you don't need to purchase and install lengthy cables across any device you wish to connect with your TV. 
HDMI
You'll sometimes need an HDMI cable and an adaptor to share your iPhone's screen with an Apple TV. The wired connection via an HDMI cable ensures stability and low latency, making it ideal for screen sharing your gaming in real-time.  
In terms of hardware, since the device does not require a wireless module, the price of a wired connection for screen mirroring is relatively low. However, as we've explained previously, managing the wires is always a pain. 
Why Do You Want to Screen Mirror?
Screen mirroring is a helpful feature that you can apply in numerous settings, including meetings, watching TV, or simply streaming your favorite video on YouTube. I'll discuss a few scenarios where you might find screen mirroring ideal. 
Work
During meetings, professionals frequently need to show material on a large screen. Screen mirroring technology allows people to easily share presentations or reports and interact in places where people gather, such as conference rooms. 
Screen sharing applications, such as TeamViewer, aid companies in organizing real-time cooperation across offsite employees thousands of miles away and reaching customers remotely to communicate their ideas. 
These software help simplify communication and allow users to grasp the material better, especially if the content requires visual presentation or you need to discuss a multi-step procedure with your clients in real-time.
TV
Smartphones have grown in size and functionality over the years, and most include a 6-inch OLED display and stereo speakers that are more than enough for viewing any visual content. However, the convenience of watching entertainment on your TV's enormous screen while relaxing on the couch remains unparalleled, even today.
Modern smartphones, thankfully, allow you to mirror on-device your iPhone's video to your TV. This is also aided by smart TVs, which have integrated the screen mirroring option, making the process all the more convenient.
Youtube
Whether you want to watch your favourite music videos, the latest uploads from your favourite influencers, or live stream games, YouTube provides a vast amount of exciting material to consume. But why limit yourself to watching YouTube on a small screen? 
With the help of screen mirroring technology, you can easily stream YouTube videos on your Apple or Smart TV. Software such as Replica is excellent for this purpose, allowing you to follow video tutorials and even cook recipes with the convenience of a larger, louder, and clearer screen. 
Features
Screen-mirroring applications offer a variety of features that anyone — from large-scale businesses to 12-year-olds — can find incredibly useful. I've discussed some of the key features below: 
Drawing
With the help of screen-mirroring tools, you can instantly turn your iPhone's screen into a whiteboard. Whether you want to give an online lecture or highlight key points in a presentation, drawing features can help you leave a distinct mark on your audience. Applications like LetsView have an excellent whiteboard functionality that is easy to navigate, even for children. 
Fullscreen Display
Suppose you want to watch a movie on your TV, but it's only available on your smartphone. Well, in that case, most screen-mirroring applications such as Replica and LetsView allow you to mirror full-screen displays of your iPhone to any other device without compromising on the video quality. 
By controlling the aspect ratio, you can stream videos, watch lectures, and play games on your iPhone while enjoying the thrill of a full-screen display on your TV screen.
User-friendliness
User-friendliness is an essential aspect of screen-mirroring applications. It is often the case that people find it challenging to navigate through screen-mirror applications and often end up not utilizing them. Tools such as AirDroid Cast and LetsView have simple, easy-to-follow user interfaces that make screen-sharing an exciting prospect, allowing users of all ages to test out the feature. 
Password-protected Connection for Devices Involved
In today's interconnected world, security breaches can occur from anywhere. While screen-sharing applications have been around for a long time, they can still have security flaws that may allow a hacker to remotely access your PC and steal valuable information. 
If you want a thoroughly secure and reliable screen-mirroring application, your best bet would be to choose an app such as Teamviewer, which allows you to prevent unattended access. As it runs on a technology based on SSL/HTTPS, it is considered one of the safest screen-mirroring tools. Other similar options include AnyDesk and LetsView.
Transfer of Files To Connected Devices
Some screen-mirroring tools allow you to send and receive data in the form of files, such as photographs, movies, and even PDFs. 
One such tool is AnyDesk, which enables you to transfer files instantly and securely, irrespective of the file size. Within its own tab, the File Management Session can operate independently or in collaboration with a Remote Control Session to manage all your files remotely. 
Remote Control
Remote control access while mirroring your screen with another device can be incredibly valuable to operate your system from anywhere remotely. This allows you to access data, troubleshoot someone's PC, or help a friend with technical stuff without being physically there.  
VNC Viewer is an excellent network-based tool that allows you the above without confusing you with various settings. The software is available on multiple platforms, such as Android, iOS, Linux, and Chrome.  
Screen Recording
While Apple doesn't allow you to screen-record your iPhone using the screen mirroring tool, you can achieve this goal using a third-party application such as AceThinker. 
This screen mirroring device is perfect for those who need to record and capture a video of their iPhone's screen and save it to their PC. It also has a screencasting function that lets users capture whatever activity occurs on their iPhone or Android smartphone and keep it secured for later viewing. 
Streaming Quality
To get the highest streaming quality, I suggest you connect your device to the TV via an HDMI cable since this will allow for a minimal delay between your iPhone and the streaming screen. 
If you're intent on using a wireless connection, then you can take help from software like TV Assist and Replica that allow you to specify your desired video quality for your stream. You can also adjust the frame rates per second to achieve seamless, high-quality mirroring functions that are ideal for sharing gameplay videos in real-time. 
Conclusion
While navigating through the complex world of iPhone mirroring applications can be challenging, it helps to understand the features of the most in-demand tools and how you can benefit from them. 
Personally, I prefer using TeamViewer and AnyDesk for my screen-mirroring sessions, as they have an excellent user interface, offer a ton of customizable controls, and offer a great deal of security. So what's your preferred tool? Let us know in the comments below!